An Ethernet cable is a network cable used for wired connections to the Internet. The image below shows a standard ethernet (Cat5e) cable. Ethernet cables come in a variety of colors and lengths, but the rectangular connector at both ends should look like the image below.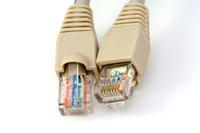 FSU residence hall rooms come equipped with an Ethernet data port or jack to which residents can connect their Ethernet-capable network devices (computers, gaming consoles, streaming devices, etc.). 
When connecting network devices to a wired data port with an Ethernet cable, be sure that both ends are plugged in securely. 
If you are unable to access the Internet while using an Ethernet connection, contact the ITS Service Desk at 644-HELP (850-644-4357) or submit a support request.
title-inside title-centered
2