When you try to access a page that has been protected with two-factor authentication (2FA), such as your My Profile page in myFSU, you will be asked to verify your identity and may see up to three authentication methods:
Duo Push (recommended) - get a pop-up notification on your mobile device using the Duo Mobile app
Call Me - answer an automated phone call to your mobile device or landline
Enter a Passcode - use the Duo Mobile app or a Duo Token to generate a passcode, or receive an SMS text message with a passcode
If you have more than one device registered, you will also see a drop-down menu with a list of devices. Make sure you choose a device that is near you and select your preferred authentication method.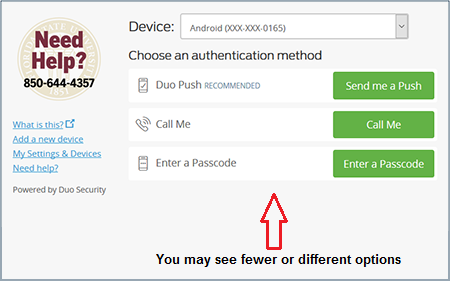 Verify using Duo Push
Duo Push is only available on registered devices with the Duo Mobile app installed. See How do I use the Duo Mobile app?
Verification using Duo Push is the recommended and quickest way to complete the two-factor authentication process.
Click Send me a Push

Your device will receive a push notification with a login request from Duo
Click Approve
If you are unable to tap approve from the push notification, open the Duo Mobile app and tap Approve
Verify using Call Me
Click Call Me

Your phone will receive an automated call
Follow the instructions given in the automated message
Verify using Enter a Passcode
Click Enter a Passcode

Enter the passcode in the box and click Log in
title-inside title-centered
2