Who:
All agents have the ability to search for cases using the procedures below
How:
1. 3 ways to navigate to the search screen and find a case:
Click the "Main Menu", Click the "Analyst Service Center" menu item and then Click"Search Cases" menu item
On the "Agent – My Cases" pagelet on the home screen click "Search Cases"
If you are looking for a specific case and know the Case ID, enter the number in the "Case ID" box on the "Agent – My Cases" pagelet on the home screen.
2. Under Search, enter the appropriate search criteria in the fields
You can use one or multiple criteria options to search.
For example, search by Assigned cases within a specific Provider group. From the dropdown list next to Case Status, select "In Progress", then, next Provider Group, select to use the Look up icon to see the list of provider group or type in the first letters of the name. Be aware that typing directly in search box will initiate the auto search feature and present a dropdown to select from as you can see in the image below (When this occurs, the cursor will also move to the beginning of the box).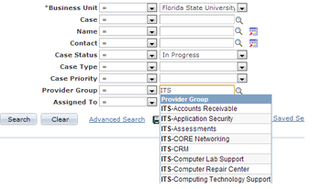 2. For more search options, click on the Advanced search option
NOTE: To find all open cases for a Provider Group, use the advanced search options and select "Date Closed" and change the dropdown from "=" to "Is Blank". Then select the appropriate Provider Group using the Look up icon next to the Provider Group Field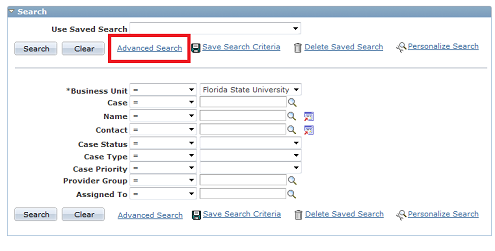 Basic Search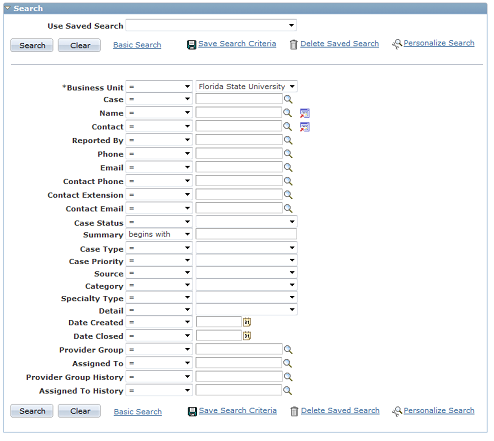 Advanced Search
3. Click the Search Button
NOTE: Search criteria can be saved by clicking on the link: "Save Search Criteria". This will allow an agent to perform a common search without manually entering the criteria each time.
4. Select the appropriate case from the Search Results (Displayed on top of page)
5. Congratulations! You now know how to search for cases